Get Back Comfiness Fast with Our Excellent Furnace Repair in Slater, Iowa
When cold weather comes knocking, everyone should be able to enjoy the coziness of their own home. This isn't always possible when you're struggling with a damaged or malfunctioning furnace. It's bad enough laying around for furnace repair in Slater, Iowa without an ice storm on the way.
That's why Kohles & Bach Heating & Cooling and our team of well-trained furnace experts are committed to helping you. We're talented at getting the heat back on promptly. And we've seen every kind of error, common or not. No matter what's gone wrong, you can depend on us.
Whether you need emergency repairs or routine maintenance, our technicians are at the ready. We'll demonstrate you don't have to lose out on quality for speed. We won't rest until the job is completed correctly the first time around. The next time a blizzard blows through, you'll be too cozy to notice.
Because your heater is such an important aspect of a home's comfort system, it's an unpleasant fact precautions should be taken. Repairs dealing with wiring or natural gas are frequently best handled by qualified specialists. They understand how to minimize risks. Thankfully there are multiple jobs you can tackle by yourself. Not only will you keep your HVAC equipment running smoothly, but you'll be better equipped to spot signs of trouble.
Your own senses are some of your best tools. They'll pick up on unpleasant sounds or smells. You'll have the opportunity to react quickly and call for professional help before the problem becomes more serious or expensive.
Many errors can be tracked back to damaged electrical components. This is most often the case when the furnace won't turn on at all. Check that your thermostat and electrical panel are okay. Be sure to stay away from anything that appears dangerous. If checking electrical components doesn't locate the issue, it may be wise to call for an experienced repairman.
Thoroughly cleaning vital parts is also beneficial. You'll reduce the buildup of dirt and other debris. Otherwise parts like the pilot light or flame sensor wear down faster or work less smoothly. If they're not functioning normally, the rest of your HVAC equipment may be affected.
Keep in mind while these steps are helpful, they can't always replace the expertise of a professional technician. We're more than happy to worry about the hard part of the job. Don't hesitate to count on a quality service company like Kohles & Bach Heating & Cooling.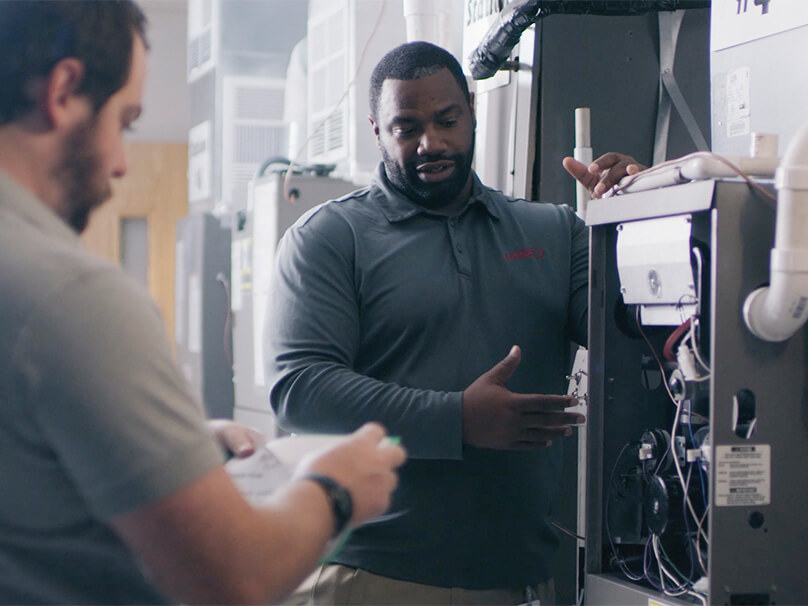 Furnace Service in Slater, Iowa and Surrounding Areas
Anyone who's ever dealt with subpar service understands how aggravating and time-consuming the process is. But it doesn't have to be when you trust Kohles & Bach Heating & Cooling. Instead you'll learn right away how easy and stress-free furnace service in Slater is with us on your side.
One benefit is the sense of safety and peace of mind a professional technician provides. We're trained to recognize the signs of carbon monoxide leaks, gas leaks and electrical fires. Consistent maintenance also reduces the risk your system fails entirely. You can instead concentrate on more important things while enjoying an efficient furnace at the same time.
Ask one of our technicians about participating in our comprehensive, annual furnace maintenance plans. They include periodically scheduled service visits. These are designed to keep your HVAC equipment in working condition and cut the need for extra maintenance visits or emergency repairs. Proper maintenance helps keep your warranty active, and may even boost your system's energy efficiency. The next time one of our technicians is at your home, feel free to ask about more details. They'll be happy to discuss how a maintenance plan caters to your budget.
During one of these visits, we'll thoroughly review important parts for signs of trouble. We'll also keep moving parts working smoothly. Any electrical systems involved are also reviewed. Altogether this will put you in a great position for getting the most out of your heater.
In the end we're only technicians, not miracle workers. Furnaces typically last anywhere from 12 to 17 years. If your furnace reaches this age, you may be discouraged to discover it won't run as effectively as it used to. It's also possible you'll have to schedule more frequent repairs. These costs add up when working in colder weather. Higher utility bills with no change in comfort is another strong sign that your furnace is getting too old.
You'll know for sure when you're spending more on upkeep than what a new system costs. It may not be pleasant to buy a new furnace, but the benefits of a new system justify the initial cost. Take advantage of our outstanding furnace installation in Slater. You'll see how far technology has come in terms of noise levels and extra features.
While the range of models and features may be confusing at the start, just let us know. We help you pick out the best choice by going over the options until you feel comfortable with your decision. Whatever you do end up selecting, we promise it's a reliable product seamlessly installed into your home.
Give us a call at 515-207-6569 or contact us online to get started with quality HVAC service today.