Get Back Comfort Fast with Our Outstanding Furnace Repair in Runnels, Iowa
Is your furnace working poorly or not at all? It's a big hassle to deal with when you're left hiding under a stack of heavy blankets or coats. Don't wait a minute longer for furnace repair in Runnels, Iowa. You will keep the cold out when you let Kohles & Bach Heating & Cooling handle all your heating needs.
Our veteran HVAC techs have seen it all. We'll help you with all the most common heating problems, and we're always ready with exemplary service as soon as you let us know. We'll hurry over fast to find the cause of the problem and resolve it. We'll also figure out how to stop the same problem from happening over and over.
Whatever the complexity of the job, our specialists can handle it. All our repairs, maintenance or installation jobs will be completed correctly the first time around, guaranteed.
Big problems are best left to professionals with the right tools and experience. But there are still lots of ways you can help. These are simpler things you can handle in your own time to check on the condition of your furnace. Keep your eyes and ears alert for unusual noises or stains. These signs often point to a problem, and moving as soon as you can could prevent a costly repair. We'll hurry over to make sure it's fixed.
Many problems stem from the thermostat. If the display is inaccurate or damaged, it could illustrate why your home isn't heated. Other electrical systems like the circuit breaker should also be reviewed. If a switch flips back to the wrong position, let us know! It sounds like something we can help with.
Routinely cleaning your furnace is also helpful. It stops the buildup of any grime or other debris. Pay special attention to central systems like the flame sensor or condensate pan. If these become damaged, your furnace's effectiveness might be reduced.
Doing these minor things helps you in the long run. But the furnace specialists at Kohles & Bach Heating & Cooling know how to best maintain your utilities, so don't hesitate to take advantage of our services!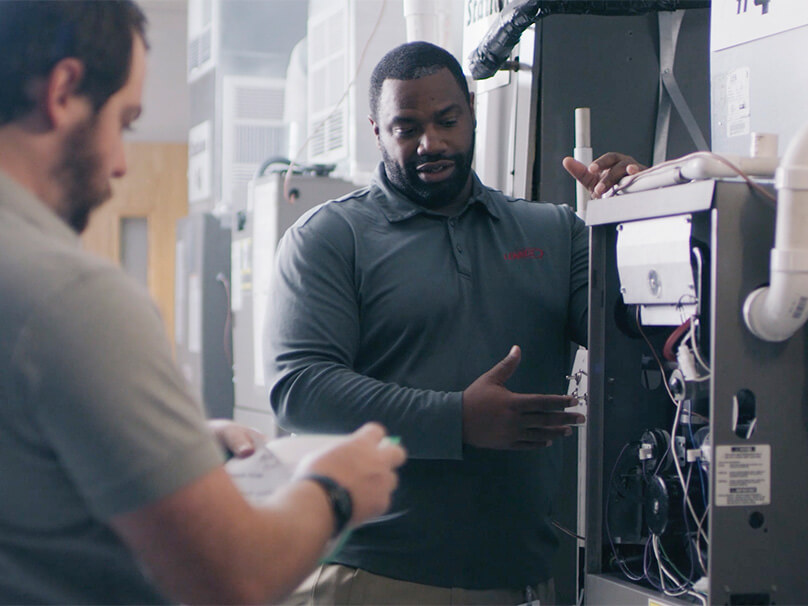 Furnace Service in Runnels, Iowa and Surrounding Areas
For anyone who's ever struggled with the process of hiring a quality technician, you know how irritating and exhausting it might be. No one should have to put up with poor service. When you hire Kohles & Bach Heating & Cooling for your furnace service in Runnels, you'll see right away how stress-free furnace maintenance can be. We have the tools, experience and sense of professionalism to get the job done right.
Consider the safety of your home or business. If your equipment is seriously damaged, it could lead to a carbon monoxide leak. Good maintenance greatly cuts the probability your furnace will break down entirely. You'll also enjoy the peace of mind its performing at peak performance. That can really mean something over a furnace's lifetime.
Have we told you about our annual furnace maintenance plans? They make a noticeable difference. They consist of periodic maintenance and detailed inspections. The process makes the most of your furnace and keeps the warranty in good standing. We'll keep a close eye on any part of the system that's lagging behind. Remember to ask one of our staff members about more information on how they're designed to fit your needs!
Over the course of each maintenance visit, we'll inspect crucial components like pilot lights, burners or blower motors. Any parts needing special attention are cleaned and replaced as needed. Electrical systems will be reviewed as well.
Even the best technicians can't keep a furnace running forever. As your system ages, the risk of a breakdown or frequent repairs goes up. If your energy costs are steadily rising, it's time to look into furnace installation in Runnels.
With enough time, maintaining your old system will end up more expensive compared to installing a replacement. This is typically around 12 to 17 years of age. With proper maintenance you'll keep your furnace in better shape for longer. When you decide to go with installation instead, we'd love to help. Our staff will help you review the range of options available. This includes models, pricing and specific features you're looking for. When you've picked out your new system, you'll appreciate the advances in technology. They offer better energy efficiency and quiet performance compared to older models. You won't have to worry about the noise ever again.
Give us a call at 515-207-6569 or contact us online to make a furnace appointment today.