Kohles & Bach has been installing geothermal heating and cooling systems in Des Moines for more than 30 years. If you are interested in learning how you can take advantage of current tax credits by installing a geothermal system in your new construction home, give us a call today at 515-278-2900.
We also fix geothermal systems. Contact us if your current Des Moines geothermal system is in need of repair or updating.
Geothermal systems use the Earth's ability to store heat energy as a perfect source for high efficiency heating and cooling. Heat energy is collected and transferred through an earth loop which is an underground piping system. A Geothermal unit will not only save you money, but you'll experience enhanced comfort and safe, quiet operation with a system that's environmentally friendly.
How you benefit
Lower Operating Cost — A WaterFurnace geothermal system is more efficient than ordinary systems. Many owners see savings up to 70% for heating, cooling and hot water.
Enhanced Comfort — The systems eliminates hot spots and cold spots. You won't have the hot blasts associated with gas furnaces, or the cooler air of an air conditioner. Geothermal units also deliver cool, dehumidified air when cooling.
Quiet — There is no outdoor unit to make noise for yourself or your neighbors. WaterFurnace units are designed to be "whisper quiet."
Reliable — Geothermal units are inside your house, so they are not subject to rain, snow, ice, debris, extreme temperatures or vandalism.
How it works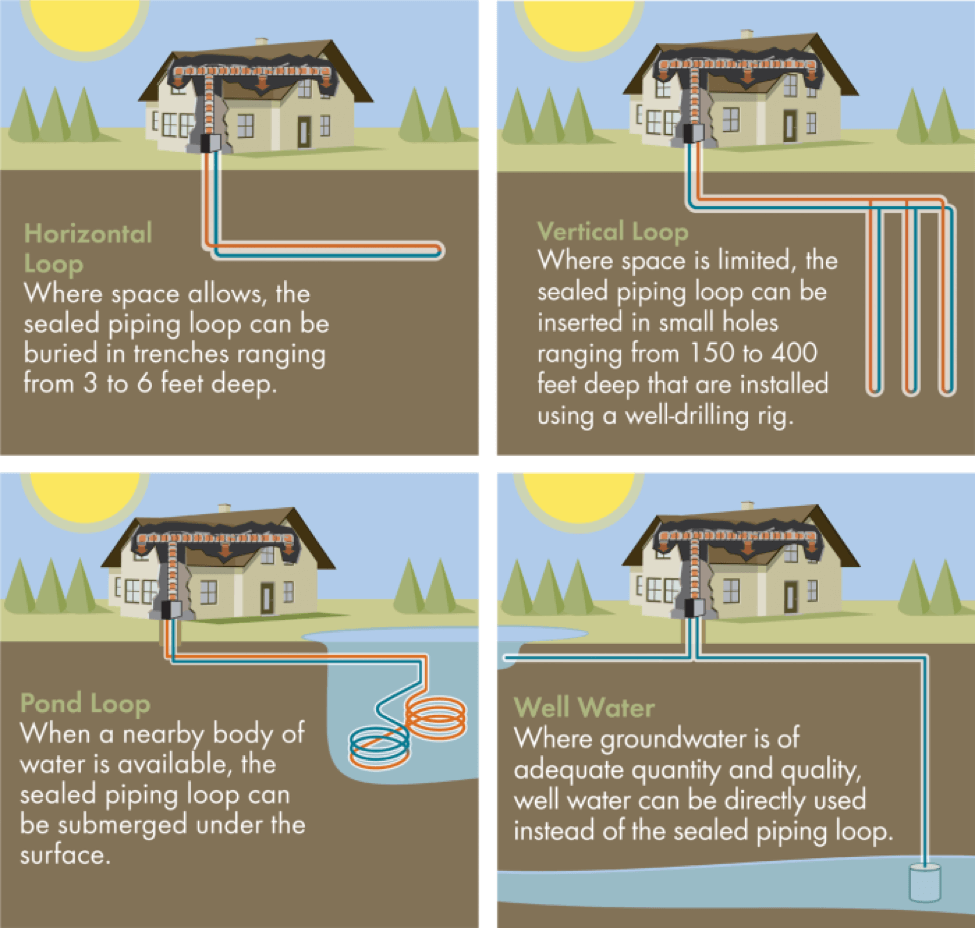 No matter what climate you live in, the temperature throughout the year varies. For some climates that means blazing summers that cool to frigid winters. What many people don't realize is that the temperature below ground (regardless of climate or season) stays fairly consistent all year. The ground is able to maintain a higher rate of temperature consistency because it absorbs 47% of the suns energy (heat) as it hits the Earth's surface. WaterFurnace geothermal systems are able to tap into this free energy with an earth loop. This technology is then used to provide your home or office with central heating and cooling.
Heating: During the heating cycle, a WaterFurnace geothermal system uses the earth loop to extract heat from the ground. As the system pulls heat from the loop it distributes it through a conventional duct system as warm air. The same heat energy can also be used for a radiant floor system or domestic hot water heating.
Cooling: In the cooling mode, a WaterFurnace geothermal system air conditions your home by reversing the heating process. Instead of extracting heat from the ground, it is extracted from your home and either moved back into the earth loop, or used to preheat the water in your hot water tank. Once the heat is removed from the air, it is distributed through the duct system in your home.